Today will leave us with wonderful memories – 70 degrees and the sun is out.  Doug and I  walked around the Tidal Basin and revisited the FDR, Korean, & MLK memorial at our leisure.  We met a group of Honor Flight folks and got to know more about their organization.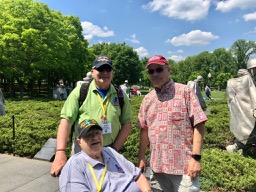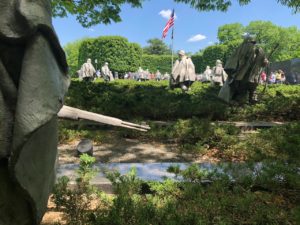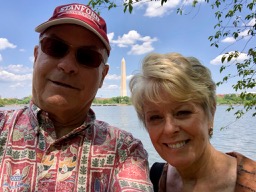 Today the headlines at the Newseum read  "TRUMP DROPS  AGREEMENT WITH IRAN  & VOLCANO ERUPTS ON HAWAII"    We were reassured by our friends Denny and Mary Mihalka who live near Kona that they are OK. 
Bathrooms at the Newseum can be really entertaining with tiles quoting actual headlines that are published headline bloopers…here are a few that made me laugh out loud.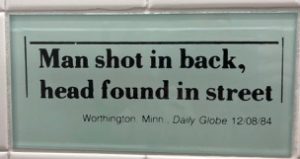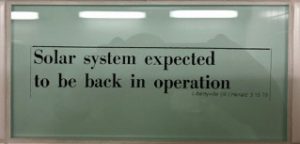 Ofter our 2nd visit to the Newseum we walked to Ebbit's Grill near the Capitol for dinner and an end to a wonderful 15 days in Washington.  We had not walked on Pennsylvania Ave and both of us commented at the same time how it reminded us of walking on the Champs-Élysées in Paris…wide street, trees, with shops and outdoor dining.  Ebbit's Grill is the oldest tavern in Washington and, because of its proximity to the Capitol, has served Happy Hour to many of our Senators and Congressmen.  It is loud, packed, charming, and had great food at a really reasonable price.  If you go (and you must) get reservations several days in advance.