We made great time driving from the Johnson's to Knoxville to visit a friend from "my other life".  I was so disappointed  that we missed her two years ago,  that I was absolutely not going to miss seeing her this time around.  It was my bad last time…I thought she had moved to Ohio…she had not.
Vicki and I  had been texting our progress all day long…parking for the night at a nearby Elk's Lodge.  She said the  Kabobs were on the grill ande dinner will be ready soon. We showed up at Vicky & Kevin's Knoxville home right on time…but they weren't there…they were at their lake house which was about 1 1/2 hours away.  I personally enjoyed our MadHatter ride through the country…Doug, not so much.  We finally sat down to dinner about 8:15.  Look at the beautiful views of Cherokee Lake from their porch.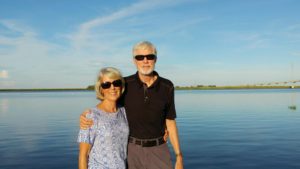 April 21…Elk's Lodge 160 Knoxville Tennessee… You can't plan an evening like this.
By now we need to resupply…Bed Bath and Beyond, Best Buy, Trader Joe's, & Walmart.  I am still not sure about Walmart.  I know you can find everything you might need under one roof, but often the search is exhausting and frustrating.  We were considering staying in the night and just chill when Greg from the Elks (we were parked in their parking lot) knocks on our RV door and invites us to "bring a couple of steaks" and join them for a BBQ & we did.  These folks sure know how to make you feel welcome.  We enjoyed great conversation with the Exhaulted Ruler, Melanie and her husband, Greg, while watching the Nascar race for which everyone gathered.  These two go around the country doing BBQ competitions like you might see on the cooking networks.  Brisket, pulled pork, ribs, & chicken are their speciality.  I came away with a few great tips on improving my BBQ.  There is something so engaging about a Southern drawl…I love listening to their "talk".