We are aiming our coach towards Cheyenne for lunch with Doug's former partner Jim Harper and his wife Ingrid. We are enjoying a book on tape (no, Bonny it is a digital file on your phone – no tape we just call it that!) by James Patterson and Bill Clinton called The President is Missing…seems to make the miles fly and driving really enjoyable.
The corn & soybean fields are turning into more pasture land and we are actually starting to see some mountains again.  God this land is beautiful…how blessed we are.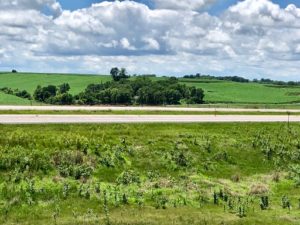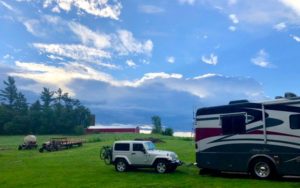 Our lunch with Jim was sweet.  Jim fixed it himself.  He has been doing all the cooking for the last 12 years…"For better or worse, in sickness and in health".  Ingrid joined us briefly at the table but I think our chatter tired her.  Always generous, Jim sent us on our way  with another box of goodies…mixed nuts, two bags of his wonderful coffee, feta stuffed Greek olives, and two very nice bottle of wine.  To top it off, he included what is called a "Cowboy steak".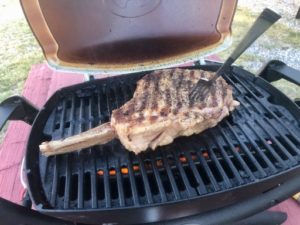 We have been pretty much disconnected for the last 3 months.  We are finding that this week has not been easy for the Democrats with the Supreme Court rulings against mandatory payment of Union dues and in favor of the cake maker's religious rights.  We also just heard that Justice Kennedy is retiring the end of July…smile.
Our granddaughter, Regan just sent us a picture of the offers to Morgan for college enrollment next year from Yale, Tulane and the Boston University.  Just think, this time next year we will all know where she is going…how exciting.   I love Hillsdale College, but I know that is not for her.  I love Morgan's adventuresome spirit.  I love that Madi knows her heart.  I am eagerly looking forward to what life holds for Regan with her kind heart and persistent attitude. What does life hold for these three precious young ladies?  Stay tuned.