We are off to the visitors center to start planning our exploration of the park.  It was opened in 1916.  It was the first national park east of the Mississippi and the first national park where the land was donated entirely by private citizens.  John D. Rockefeller was one of those citizens and he planned and built the carriage trails (more later).
We started on the Park Loop which is a 27 mile scenic  route around  a portion of the island (Mount Desert Island is the 3rd largest island on the east coast).  One of our stops was Cadillac Mountain which is the highest point on the island at 1,800 feet.  It is famous for being the first place to see the sunrise in the USA.  Sunrise is at 4:46 am…I don't think so…I am just starting my REM sleep about that time.  Next was a stop at Jordan's Pond for their famous popovers and tea on the lawn…except there was no lawn yet.  It was under construction for the "season" that hadn't quite arrived.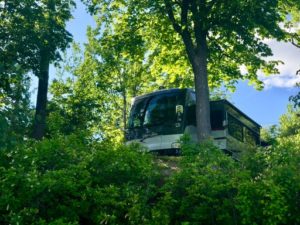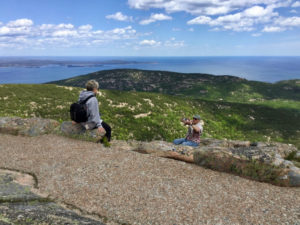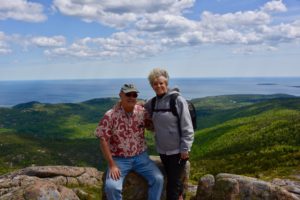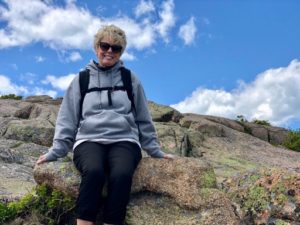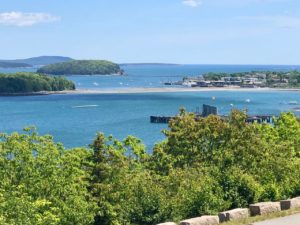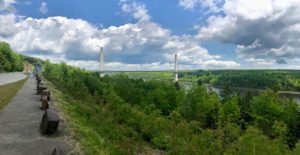 The couple that we had met in the RV parking at LLBean arrived today at our same campground near Acadia National Park.  Their names are Lance and Shawna.  They sold their home in La Mirada and have been full timing for about 1 year accompanied by a dog and 2 cats.  They thought the cats would have died a long time ago…so much for 9 lives.  They both still work remotely.  He is an IT guy and has their rig "rigged" so they could probably get a wifi signal in Death Valley. We shared a campfire and a couple of bottles of wine and the sunset.  During the evening someone in the camp ground launched those lanterns that are made out of a paper bag, popsicle sticks and candles…I had never seen one before…3 times we got to watch those little hot air balloons lift high in sky over the water and fly higher and away.
I saw some fireflies tonight.
Melanie and Mike found a house in Ladera Ranch and it is in escrow.  We also remember that it has been  a year since Malia's accident.  Thankful.