Longhorn cattle were originally brought by the Spainards during their trips from Mexico up into the Texas territory. Herds were left behind after the Mexican Revolution from Spain. These hardy cattle proliferated in southern Texas until after the Civil War. They became a new source of meat for the U.S. during and after the Civil War.  A few other factoids.  After the Civil war, there were 6 Longhorns per person in Texas and in the north there were 6 people in the north for each head of cattle.  The Northerners loved their meat (much like I do).  That was the beginning of the great cattle drives and the cowboy.  Cowboys were just that, boys between the ages of 15-21  – much younger than most people realize. There were very few "Cattlemen" – except for the big bosses.
That night we met Doug's son, Matt, and his wife, Mariana, for dinner at a place called Ida Clair (pronounced "I Declare") and of course it was all Southern fare.  The city of Addison is known to have more restaurants per capita than any other city in the US.  Shrimp & Grits yummmmm.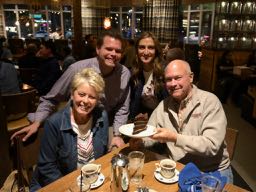 After dinner Matt and Mariana were going to go pick Melanie, Mike, and Charlotte at the airport.  Doug and I were speculating how they were going to get 3 extra people, a car seat, stroller and luggage into a MiniCooper. They never told us that they drove TWO cars to the restaurant! Mystery solved!