The Grapevine RV Park in Grapevine, TX (24 miles from Dallas) is one of the most beautiful I have ever seen.  Our spot is out of the edge of a lake.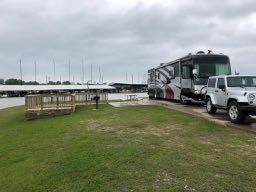 If we had our kayaks, we could launch from our site.  It is also so windy that being outside is not tolerable.  No bike riding or basking in the sun here.  Doug had this wonderful vision when he booked this site, that we could have morning coffee out on the deck overlooking the water…sadly, not to be.
View from my window today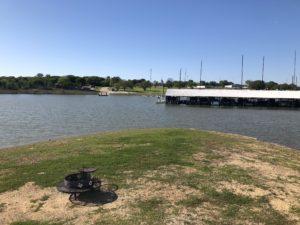 Our "unused" deck – due to wind and temperature – sadly!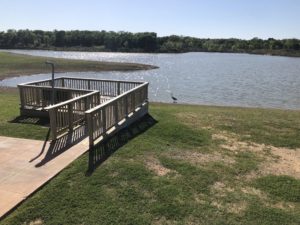 The night we arrived we went to Red Hot & Blue for Texas BBQ with my Goddaughter, Andrea, and her mom, Irene.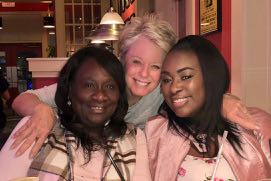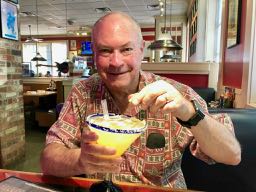 Heading from the Panhandle to Dallas, the landscape turns from brown and sparse sagebrush to green trees and purple and pink wildflowers.  Along the Dallas freeways there is construction going on everywhere….a bustling economy for sure.  One of the businesses leaving California was Toyota and we passed their headquarters  This weekend was the grand opening of the Toyota Music Factory which is a huge music venue just outside Dallas. Hmmm I wonder if that investment might have been good for California???