July 20, 2016…
The Demotropolis and McConnell Clans are converging on SunRiver, Oregon today.  On our drive north from Long Beach yesterday, Doug and I had made a brief stop in Redding with our granddaughter, Madison.  Madison wanted to spend  a day of "shadowing" at Shasta Regional Medical Center.  She is going to be a high school senior next year and is considering a healthcare path.  She is focused on the role of a Physician Assistant (PA).  With Papa Doug around, she may have gotten a lot more than she bargained for.  Since no heart cases were going on, she settled for a colon resection in the OR, rounds in the CCU, review of an angiogram in the heart cath lab, followed by lunch in the famous SRMC cafeteria.  The rest of the day ended with the Emergency Room where Melanie works as a PA. We dragged Madison out around 1030 that night…..the ER was her favorite. She loved the excitement, drama, and variety!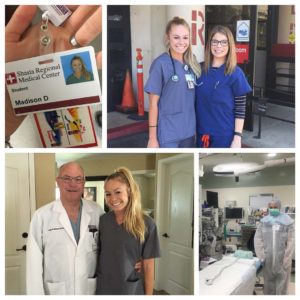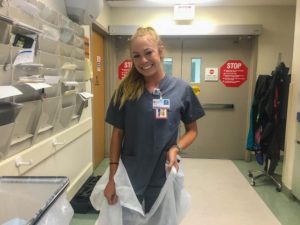 Our newest granddaughter, Paige, is now 5 days old (born July 15th).  Our other daughter-in-love, Janice (a labor nurse) orchestrated a most perfect and timely delivery……Lindsay (the mom) did a great job too.  Paige is thriving at 7-10 0z. & 19 inches in height.  She seems so small to us.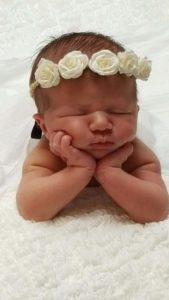 The heavy rainfall in Northern, Ca this winter has resulted in a beautiful drive from Redding to Bend, Oregon.  Shasta Lake is almost full, the fields are green, and there are wild flowers in the mountains.  Our car is packed to the brim with everything from food to pink fishing poles and a wet suit for Regan… we looked like the Clampets.
Having the whole family together was the original intent  and proved to be an impossible task.   We missed Andy, Lindsay, Dylan, Malia, and Paige but, having a baby is a good excuse in my book.  We are delighted to add Paige to our family of grandchildren.
I want to give a special "shout out" to my daughter-in-law, Janice.  I have known her since she was a senior in high school and cannot even remember our life without her.  She and Sean took so much "off my plate" that my anxiety about being in two places at once completely went away. Thank you, Janice.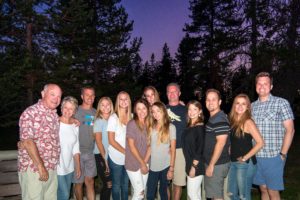 Melanie & Mike (Doug's daughter and son-in-law) & Matt & Marianna (Doug's son and his fiancé) were able to join us for a couple of days.  The kids managed to do a float down the Deschutes  River, horseback ride, do  white water rafting, bicycling, swimming, soaking in the hot tub & fishing.  Papa Doug and I weren't always able to keep up with their incessant energy.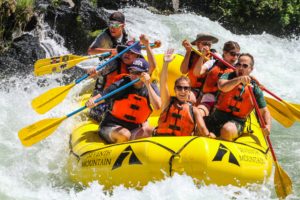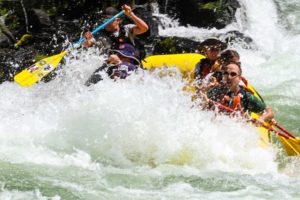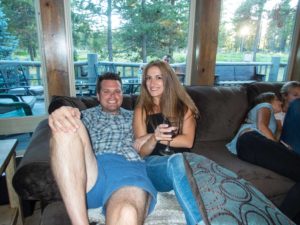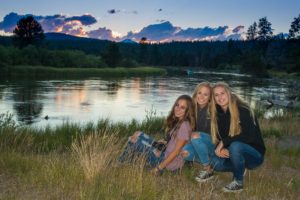 Silver Pines Lodge is a 5 bedroom gathering place with a fabulous kitchen and great room in SunRiver, Oregon…..we spent every night on the patio for dinner.  I would love to be here when the snow falls.  The other night while Rosie and I were star gazing, some star dust fell in my eye.  I found that a corneal abrasion can really take you out.
We had a caterer, Susan Zimmerman, come in for 2 dinners….what a treat.  She was so generous with her time that we got a private cooking lesson as well.  She said she was a little intimidated making fish tacos for all these "Southern Californians".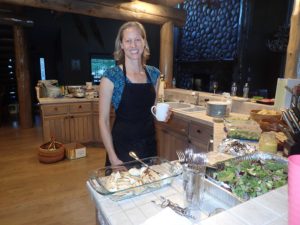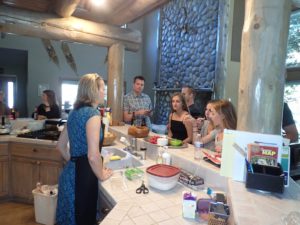 As all good trips go……the time went by in a flash.  The Demo's left for the airport at 3:30 am of the 8th day.   Morgan and Madi and Fran (the 4th Demo daughter) were leaving for Hume Lake Church Camp then returning for a week of beach camping……oh to be a kid again when mom and dad do all the planning and you just show up!  My grandma called this "living the bread and butter life".   Madi will be saying goodbye to her best of friends as Fran leaves for college in the midwest in two weeks.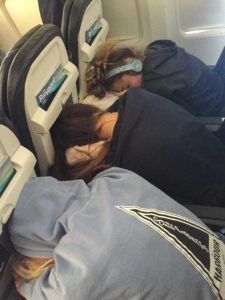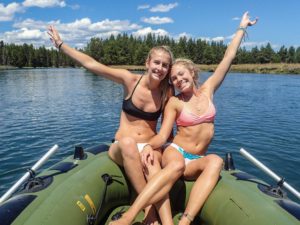 Before I could even change the sheets, my three BFFs from Long Beach arrived with their husbands in tow.  We celebrated Carole's  birthday in style with another fabulous dinner prepared by Susan….this time ribeye roast, arugula pasta, carrot souffle, and peach cobbler.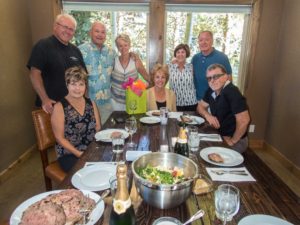 I have known Carole since junior high school when she was nicknamed "barrel tits".  My nick name was "cheese buns". Connie & Leslie & I have known each other since kindergarten.  We have been friends through the "coming of age", learning to drive (with or without a license ), marriages, childbirth, raising our children, divorce,  loss of a spouse, remarriage and everything in between. 
The frosting on the cake was discovering a former sorority sister and class mate from Poly…Sandy Small.  She reminded me that we haven't seen each other for 51 years…imagine! She has lived in Bend for 22 years.  Her home is on the banks of the Deschutes River and is truly  heaven on earth. We celebrated our reunion with an Oregon only Yumm Bowl.  Sandy, will you be my FB friend?