A few last thoughts about Dallas
Doug and I have been on the go from dawn to dusk for the last 3 days and I am pooped.  With Matt's help and driving skills, I think we got a good introduction to the city.  What I did not see in Dallas was an RV traveling through the city, graffiti, or an abandoned grocery cart.
Before we left Redding you could say I was grouching about missing Spring there.  Guess what???……Spring happens in other states too!!! The highways around Dallas are green with beautiful pink, orange, and purple wildflowers.  We just learned that Lady Bird Johnson actually had wildflower seeds spread along the state's highways. Interesting.  Dallas and Redding temperatures seem similar.  As Matt says "when it snows in Dallas the entire city shuts down".  He is pretty sure the state only owns one snow plow.  Sounds like Redding.  Also the temperatures are in the triple digits during the summer months.  We both really loved Dallas.
4/04/2016 On to Austin
Today we traveled a short three hours to Austin.  Monday night our neighbor from Long Beach, Caity Peters, went on to win yet another round on The Voice.  Caity, you are an amazing young lady.  Next week the audience…the TV audience….gets to vote.  You might want to tune in to ABC next Tuesday and cast your vote.
About 9 pm, we decided to drive into Austin for a quick peek. We ended up at the Capital Building and guess what………it was open to the public until 10 pm.  It is a replica of the US Capitol except, typical of Texas, it is 14 feet taller.  Also the State Troopers that were manning the metal detectors were carrying M-16s.  It was kind of weird seeing such big firearms….but then it is Texas.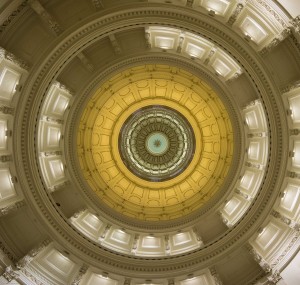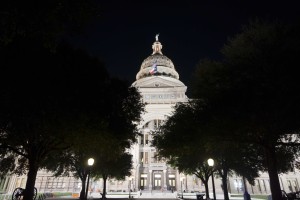 4/05/2016  One day in Austin
Today is the Wisconsin Primary.  As of this writing, we don't know who prevailed Cruse or Trump……Hilary or Bernie.
Because we only have one full day here, we took a minivan tour of the city and Hill Country.  After fortification in a charming beer garden on 6th Street call Easy Tiger, we did a 9 mile bike ride around Lady Bird Lake (which is really a river).  The sun was out and the trail was well traveled.  There were folks out in kayaks, paddle boards, and crew boats.  The Texas state crew finals will be held here in a couple of weeks.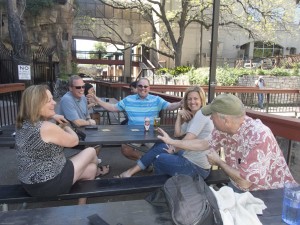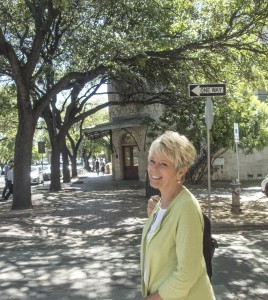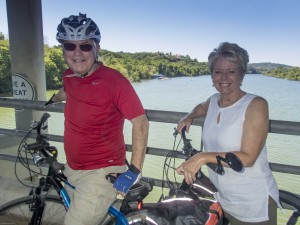 Austin is a much older appearing city than Dallas with much road work and building going on.  The population continues to grow and reached 2 million this year.  It is considered the Silicon Valley of the Southern US.  There would be so much to explore here, we regret having only one day.  Again our RV park is beautiful with sites under big oaks….hence the name Oak Forrest.  Full hookups, with Doug's military discount, only $30 a night.  The drive into Austin is about 7 miles.  We were advised to stay off I 35 because it is a parking lot much of the time…true.  The campus of the University of Texas at Austin is in town.  It employs 25,000 and enrolls 50,000 students.  It has the 8th largest football stadium in the US.  It has an enormous endowment but the money can only be used for buildings not tuition or scholarships.  There is a brand new Medical School and hospital being build on the campus.