March 21, 2016 – The Takeoff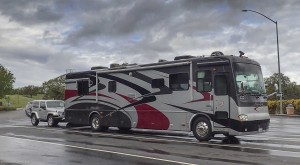 We are finally on the road about 2pm…..only six hours later than planned. Rain and then a downpour delayed our departure. Excuses excuses excuses. We call this "Carole Collins time". Judging by everything we are taking, you would think we are going to a 3rd world country. Our coach weighed in at 30,840 lbs. fully loaded, 700 lbs short of maximum weight…..gee what else could I take?? Doug has done a remarkable job of making this a cozy home with ultra-filtrated water, new TV, Apple TV, Sirius Radio, & new tires, just to name a few. Did I mention that our bed is sooooooo comfortable? We are going to call this 400 sq. foot box home for the next 3 1/2 months OR until we have to call Dr. Phil. Rolling down the I-5 to the music of Elvis, we stopped 40 miles into our journey for lunch & then at 52 miles to take a nap. At this rate we will never make it to Texas. Our first night out we discovered that the running and brake lights on the RV didn't work. Doug has been a plumber all his life, now he needs to become an electrician as well. As you know, Doug loves a challenge. Scanning the Tiffin forum and a call to Safari Bill yielded no answers on how to fix this dilemma. Well there won't be any night driving until Dallas. It was late, so we slept in the rest stop with the truckers.
(Note: Doug fixed the lights in Las Cruces, NM. We are good to go now)
Call me crazy, but I love the drive between Redding and Sacramento. With the rain, everything is green, the Red Bud is in bloom, and we see fields of yellow wild flowers. Rice paddies, almond trees, olive & peach trees predominate with lots of grape vines springing up. On one web site I saw that they claim that marijuana is the number one crop in California.
March 22, 2016
Our second night out we stayed in an Elk's Club in Redlands and Doug set up our satellite so we could watch our Long Beach neighbor Caity Peters win her 2nd round on The Voice……..go Caity. She has a remarkable earthy voice. Doug and I wonder if we were not living next to a future star in the making. Once we emerged from the Grapevine, it seems we saw nothing but asphalt jungle and desert until we left Phoenix. Wow has Phoenix grown. Phoenix
March 23, 2016
Spring break and spring training contributed to the feeling of a mad house. We did manage to meet Doug's son, Matt, for a quick dinner before he flew out. Matt is a baseball fan as well as working as an attorney/agent for a MLB agency. He is a walking "google" when it comes to the game. When he was younger, he and Doug would travel in the RV to Phoenix and park in the parking lots at the baseball field where spring training would be taking place. From dawn to dusk Matt would wait for an opportunity to collect an autograph. Sometimes he would get his picture taken with a player, Doug would print it, and then Matt would wait for the player to emerge from practice for a signed photo. We are so happy he has transformed this passion into a profession.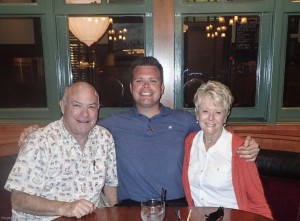 One of my hiking buddies from Redding, Mary Self, gave me a list of one food each state is famous. Arizona's is Prickly Pear. So I obliged with a Prickly Pear margarita. Not bad.
March 24, 2016 – Tombstone, AZ
(For More Tombstone Photos Click HERE)
Our 3rd night out we took a detour to Tombstone "The Town that was too tough to die" . It became famous for being one of the big boom towns that grew up during the silver rush and the infamous gun fight at the OK Coral. Today it survives by tourism only in a 3 by4 block area consisting of saloons, The Bird Cage Theater, Western attire shops, & ice cream parlors. Combining parts of Bill O'Reilly's depictions of western characters, some internet research and a "ghost" tour, I am beginning to put together another piece of "how the west was won". We learned that when men came to town they didn't just park their horses in front of the saloon, but would board them at the OK Coral. Parking your horse in front of the saloon was like leaving your car with the doors open and the engine running….ripe for theft. We also learned that "cowboy" was considered a derogatory term back in 1882. Importantly we learned that the "gunfight at the Ok Coral" never happened there but up the street a block or two. Our guide said "who would ever have gone to see a movie called 'The Gun Fight In the Middle of the Street' "? The legend was created by Hollywood and has stuck.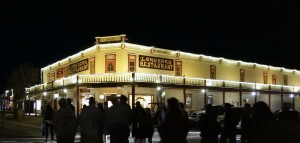 (For More Tombstone Photos Click HERE)
March 25-27, 2016
Las Cruces, New Mexico We are staying at the home of Fernando and Susan Ravessoud and their children….complete with full RV hookups. Their home has a very typical adobe flavor located at the base of the Organ Mountains. Fernando is an orthopedic surgeon that Doug knew in medical school and then worked with at Long Beach Memorial. His wife, Susan, is a NP that also worked at Memorial. They have acres of property that they have populated with 6 horses, 8 cats, 4 Guinea hens, 22 chickens, and 2 dogs. The Ravessoud's moved to Las Cruses to escape the medical environment of Southern California and for a less congested place to raise their children.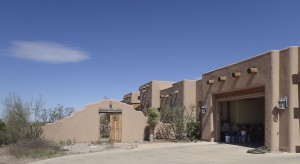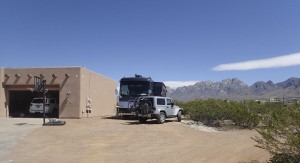 Las Cruses has a population of about 100,000 bordered by the Rio Grand River which is dry bed most of the year due to a dam up north. Primary crop is pecans and, you guessed it, chilies. It gets very windy and the humidity is 0. Around July they have a monsoon like month followed by the desert in bloom. We spend our first day building a chicken coop followed by an all you can eat BBQ with Fernando's famous ribs, neighbors and colleague from the hospital. A surprise guest was a former medical school buddy of Doug's.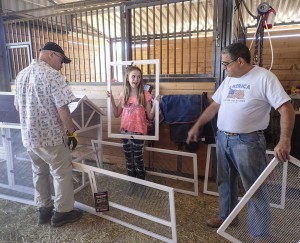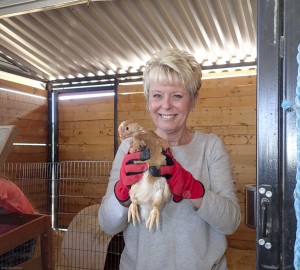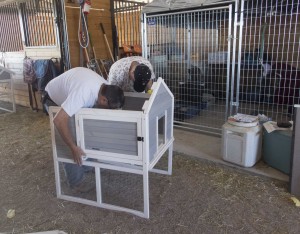 This morning is Easter and we went to Holy Cross Catholic Church for Easter service. This congregation loves to sing. A couple of things I loved…..if you listen you can hear all the children, such a sweet sound. Because we were "late" we were seated in the very front….it was quite beautiful watching all the parishioners take communion. A very special Easter for us.
We walked the campus of New Mexico State University which is the primary employer in the city. We literally had the campus to ourselves. The evening was complete as we watched the sunset from the roof of a neighbor's house….saying goodnight to Easter with, appropriately, a glass of wine.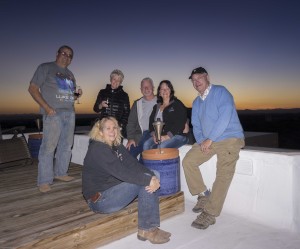 The "food" of New Mexico is the chili. We had ample opportunity to sample this. When eating in a Mexican Restaurant in NM (I am not sure there is any other kind) you are always asked of you want your enchiladas "flat" or "rolled" and if you want red or green chili sauce.,,,I had enchiladas of breakfast this morning. Doug is rightly very proud of himself for fixing our electrical problem, eliminating any need to make an appointment in Dallas for our rig. At the conclusion of week one we have traveled 1,350 miles. Susan and Fernando are off to work this morning. We said goodbye last night…..it is off the TEXAS today!