YOSEMITE – 2016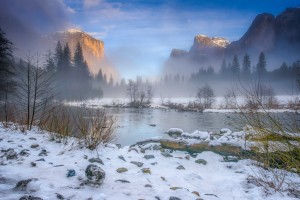 Chef's Holiday January 17-20, 2016
The Jensen's, Roger's, & McConnell's spent 3 days at the Ahwahnee Hotel in Yosemite National Park.  The girls had 3 sessions of cooking classes with chefs from Dallas and California.  With two days of almost continuous rain ( not snow ), we spent way too much time in that beautiful dinning room.  The session ended with a five course meal which included a shrimp & scallop appetizer, pike on  purée cauliflower & polenta, a rabbit pot pie with a truffe and cheese sauce, veal chop,  & cream brûlée, all with appropriate wine paring. We all rolled out of the the dinning room last night.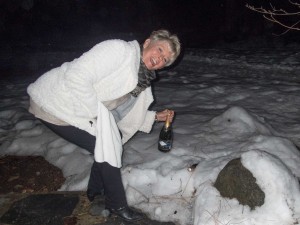 Bonny's Ice Bucket Snow Bank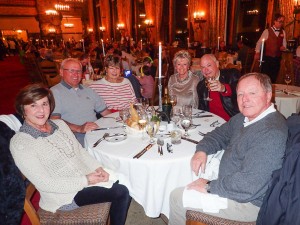 Connie and I did not let the rain deter us.  We walked a few miles each day in the rain, thoroughly soaking our rain coats.  Considering that we basically only had a table top heater in our cottage rooms, it was hard to dry our clothes. This was one of those times that all the extra clothes came in handy.  Doug was determined to do some photography,  the sun accommodated him for a few brief moments.
The following was the saga of the Jensen's.  You may say to yourself, why would they ever want to go back, but we are already scheduling another Chef's Holiday for next year.
The Jensen's arrived to a very cold cottage.  As Connie was getting ready for dinner, she saw something scurry by out of the corner of her eye…….a mouse eek!!!!!!! That was the beginning of capturing 3 mice.  By the way, peanut butter works best.  The electricity also went off periodically on different sides of the room.  The straw that finally did it was when Connie was drying her hair after one of our rainy walks…. All the electricity went out.  Connie & Terry had had it.  The hotel moved them to a room on the 6 th floor with an attached solarium.  We could of had a big party there, except there were only 6 of us.
After they were moved and resettled,  we went to see the "new" accommodations ….there we found a pale and anxious Terry… He had gone back into Afib (he had an ablation a few months earlier). Doug to the rescue….would you believe there was not a blood pressure cuff or medical bag to be found at the hotel!!! The clinic was closing in 3 minutes & no they could not stay open just a little longer, "park rules".  A concierge named Sue did have her husband bring in their personal BP cuff from home, however.  A big thank you to Sue.  As it turned out, Terry had some meds on hand, he was able to double up safely with a known BP.  We were able to avoid a call to the medics and all the drama that would have caused. Needless to say…they were not up to joining us in the big dinning room for the 5 course dinner…. The kitchen graciously served them every single course in their beautiful solarium.  End of story.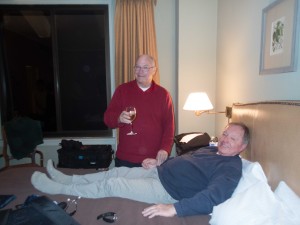 Terry converted to sinus rhythm with the aid of some wine!