We spent most of one day driving through the North part of Washington close to the Grand Coolie Dam ( the largest dam in the US).  We are still amazed that this part of Washington is desert, dnot pretty or inviting in any way.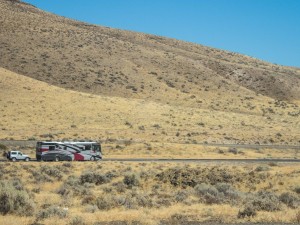 To continue on the "not so pretty note" we stayed at an Elk's Lodge in Tacoma.  Our spot was next to the side of the building.  Inside there was a concert raging on with a band playing loudly.  They said it would be over bymidnight.  Did I mention that the front of the RV faces their container dump site?  The price was right and we were tired.  You won't find nicer people than at an Elk's Lodge though.
The next day was spent visiting with long time friends of Doug's. First were friends from his Lamaze class when he and Benny were pregnant with Matt……Debbie and Robert Secombe.  They have kept in touch for over 30 years.  Debbie and Robert both have worked for American Airlines, he as a pilot and she as a flight attendant.  They currently live on Fox Island in a home built in 1908 that they have restored.  We get to see it tomorrow.  The evening was spent with a classmate from Stanford, Carl and Jude Mundt.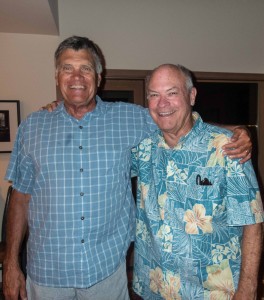 They live on Bainbridge Island in a home that is right on the waters edge with a spectacular view of Puget Sound.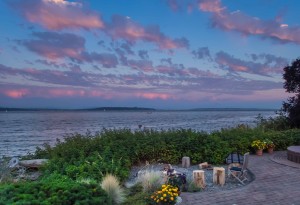 As the crow flies, there home was only 15 miles from us, but with all the islands and bridges to traverse, it took us over an hour to reach their home.   We really thought we were imposing as they had just arrived home from a weekend of sailing their 40 foot sail boat.  Carl delighted us with the most delicious halibut dinner and Jude with a wonderful strawberry crisp.
A couple of very interesting things we learned…….Bainbridge Island was the real setting for the book Snow Falling on Cedars.  I remember loving that book.  After seeing this area, I think it will be a reread.  They, as a family also did a very interesting trip while their two girls were in 4 th and 7 th grade.  They swapped homes with three families in Europe, home schooled their girls and traveled around the world for 15 months.  As you can see, one evening with them was not nearly enough.
Yesterday we spent with Debbie and Robert.  We originally were going to spend the day taking a ferry and exploring Seattle.  I was a little under the weather, so we stayed at their house.  It was so nice.  Their home is on Fox Island and was built in1908.  It was originally built on the water but was later moved to it's present location.  It is a little funky with many obvious additions that made it absolutely charming.  I loved touring every single room.  Robert is about 6'4″ and I am sure he has to bend some to enter a few of the rooms.  We also walked a little and saw several deer.  Debbie is a real animal lover and is involved with animal rescues.  There was a sweet cat in almost every room.