This is the only desert in Canada with temperatures in the 3 digits range last week.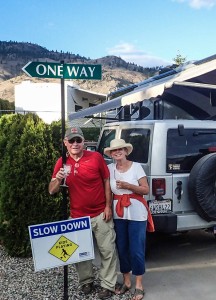 We are in Lake View RV Park looking across the street to a private beach.  The surrounding area is desert like with lots of hills covered with vineyards. This morning I can see a group of women doing a boot camp on the beach.  Maybe I should go for a walk.  Actually, yesterday, Doug and I did a bike ride along this side of the lake after our short drive down here.  It is a very crowded area with a range of accommodations from resorts to seedy camping sites.  This park is tiered with 5th Wheels high above us.  Each of the sites are individually owned and most are here for the summer.  People get around in golf carts. We are considered "transients".  This is a far cry from our camp site at Lake Louise and twice as expensive.  The girls would love it here.  If the wind dies down, we may rent a kayak this afternoon.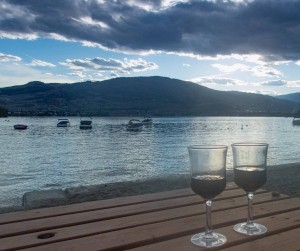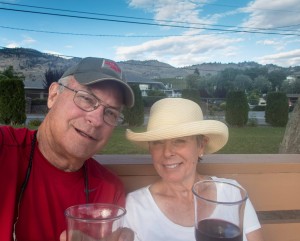 This is truly a gem in Canada and a place we would like to spend a few more days.  There are fresh fruit stand everywhere on the roadside.  We  would love to load up, but are not sure what will be confiscated at the border.  Cherries, apples, and grapes are the predominant crops.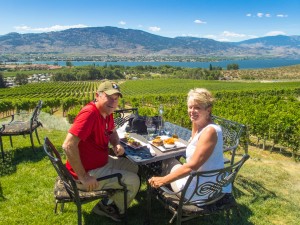 The wineries primarily do reds in this area.  Had lunch with a view at the  NK'MIP  Resort. This is an Indian resort.  We have been told that this chief is quite an entrepreneur and has a beautiful winery, restaurant, resort, RV Park, cultural center.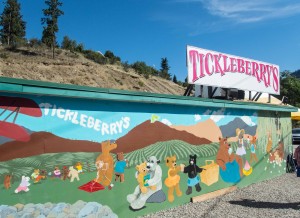 We also went to an iconic place called Tickleberry's for ice cream. One of their flavors was "sweet & hot". ….the sweet was mango with a vanilla base and the hot was jalapeño pepper.  It was actually good when I tasted a small amount.  I am so boring that I didn't buy it.  This little ice cream store was sort of out in the middle of no where. Doug and I walked in and it was swarming with people.  Doug had no choice but to wait in line :  ). (Doug here – I WILL wait for ice cream – always!)
Our final stop was a general hardware store that we were told we couldn't miss seeing.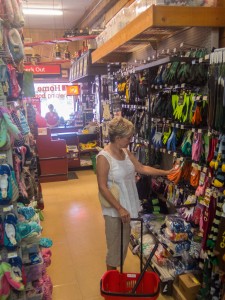 I was thinking, what is wrong with these people that a hardware store was a highlight of this town.  It was like an Ace on super super steroids, 5 levels full of everything your little homey mind can imagine.  We dropped $180 there 😁 (Doug here… WE Bonny, WE? I bought a single filter for the motor home – cost $12. Where's Dr. Phil when you need him???)