Today we leave these magnificent Canadian Rocky mountains via the Trans-Canada Hwy.  These 250 miles are probably the roughest Doug has driven.  If I didn't have such faith in his abilities, I would have "white knuckled" much of the way….winding mountain roads, steep grades, rain, cliffs, two lane only roads,  and roundabouts.  I personally enjoyed the entire trip.  It was beautiful entering the Okanagan Valley.  This is lake country and known for its great grape growing climate-surprise! A Canadian Napa Valley.  Picture green hills covered in grape vine and apple trees, farm land with corn, pastures with cattle and horses edged with beautiful blue lakes.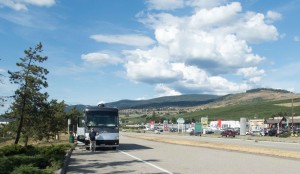 As usual we didn't have reservations or the Internet to search, so as soon as Doug had cell service, he started to call.  Our first choice was full and it even had 500 spots.  That was a little worrisome.  We were referred to Apple Orchard RV Park which was way off the beaten path. It has only 10 sites and is surrounded by apple and cherry orchards.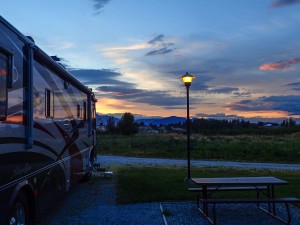 We sort of missed hearing the train every 2 hours at night, but the coyotes were out there.  The sunset was awesome and Doug is in hog heaven with access to the Internet.