The Ice Field Parkway
At last I fell like I finally got to see a glacier up close and personal.  We took the parkway about 90 miles north of Lake Louise just into Jasper National Park. Along the way we saw several glaciers throughout the day.  Doug discovered a new phone app called GPySy Tour that followed our position on the parkway and narrated a description and gave us anecdotal information about what we were seeing…..it was great. I think I finally understand the difference between a glacier and an ice field and have a far greater appreciation of how these beautiful Rocky Mountains were formed. I am now a junior geologist!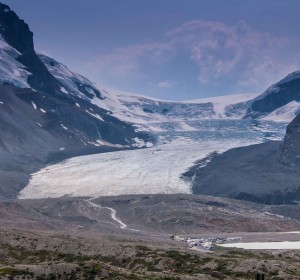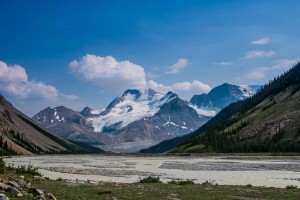 If we ever are fortunate enough to return, I would like to hike the Wilcox Trail very near the Columbia Glacier Field.  It is about a 3 hour hike with extraordinary views of the glaciers and mountains.  This was recommended by one of the guides at the information center that found the swarms of tourists as unappealing as we did.  There  were long long lines of people waiting to  board a bus onto the Athabasca  Glacier.  As you know, Doug has an aversion to lines….so that was never going to happen.
Our last stop on the way back to our camp was this beautiful and VERY rustic lodge called Simpson's Num-Ti-Jah Lodge.  If we weren't expected back at the RV, we would have stayed for dinner.  This was not the "try to look rustic look" but the real thing……I would have liked to stay longer.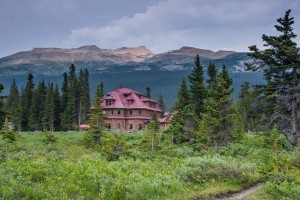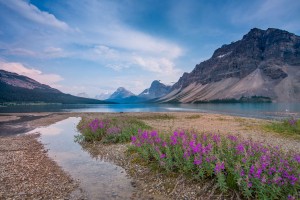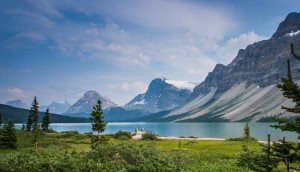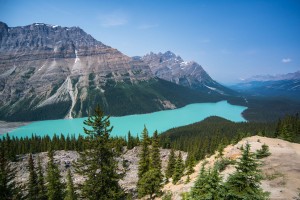 We came back for a glass of wine with our new neighbors my from BC.  They have been traveling since 2007 and have seen all of Canada and most of the U.S. wintering in Arizona, Florida, and Texas.  They were leaving the next morning, so we had a lot to learn in a short time.  The weather also changed and we were treated to thunder and lightening and a downpour instead of a camp fire.
A short word about Doug and the RV……He has done a wonderful job of making all of this work…..I have yet to be without power, fresh water, warmth, or a clean windshield.  The many systems on this RV are mind boggling.  Always the teacher, he is determined that I understand the difference between amps and volts and propane and a generator……this may take a lifetime :  )