Today we went to Banff.  It is approximately 30 miles southeast of Lake Louise down the Trans Canada Highway.  It is much bigger than the town of Lake Louise and dominated by the famous  Banff Springs Hotel. This is a castle like structure several stories high overlooking the Bow River and the water falls down river.  The majority of our time was spent exploring the hotel and enjoying a dinner on an outdoor patio overlooking the valley.  The view was stupendous. As usual, by the time I was starting to look in the shops, they were closing. (Doug here – good planning on my part!)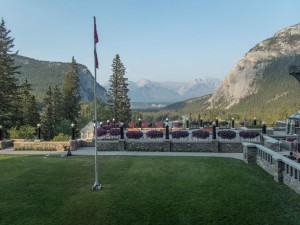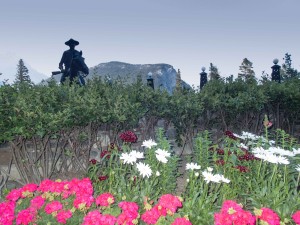 The town consists of several bustling streets overflowing with tourists, just like us. The day was especially warm, according to our server, at 87 degrees with a haze spoiling the view due to a couple of fires some where in Washington and Oregon and another in Jasper.
For this reason, we decided not to take the gondola to the mountian top.  We were rewarded with the opportunity to watch two large deer that decided to hang out in the parking lot. They paid very little attention to the people gathered around.