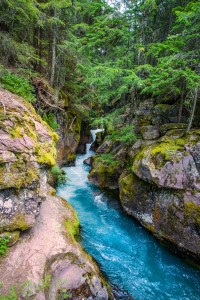 July 1, 2015 Hiked Avalanche in West Glacier
Another trip over the Going to the Sun road to West Glacier…..to hike to Avalanche Lake.  This was a MUST hike according to several people we have met.  It is described as an easy 2 mile hike with 500 foot elevation to Avalanche Lake and 3 waterfalls.  It was more beautiful than we could imagine, but easy, no.  Perhaps our mistake was listening to folks in their 20's and the 500 foot elevations occurred several times in that 2 mile span.  Only the pictures can tell the whole story.  Hiking with Doug works for me because he stops so frequently to take photos.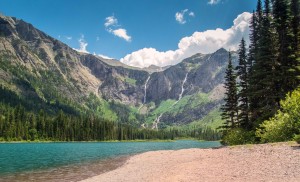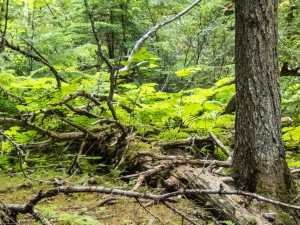 I cannot begin to tell you how many interesting people we have met.  You know how shy Doug is.  One of our encounters was an engineer working on a portable machine that converts feces and polluted water into electricity and potable water.  The project partially funded by the Gates Foundation.  The other was one of the most gorgeous men I have ever seen.  He was hiking alone and was on holiday from his job as a statistics professor in Colorado, but originally from Wales.  He was buff, with a chiseled face, articulate, about 6'2″ with the most wonderful accent…..makes me want to go to Fort Collins, Co :  ) (Doug here: I do read these things Bonny!)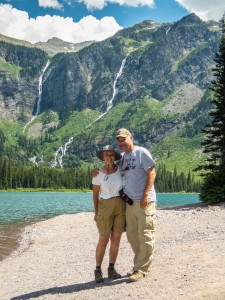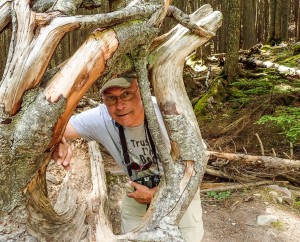 Out last big surprise of the day was to see two bears along side the road as we were driving back to our campsite.  We are all encouraged to have bear spray.  I even saw the waiter at one of the hotels wearing it inside the restaurant.  Now if I saw a bear while I was hiking, there would be no need, I would simply die of fright.  Even those smiling bulls scare me.