June 28, 2015. Two Medicine
Another entrance to the East side of the park is Two medicine Lake and campground and East Glacier Lodge.  Because of the heat, we simply cannot hike after mid morning.   We find sightseeing in the Jeep with the top off and the a/c on to be quite enjoyable.
A late lunch at a beautiful lodge frees me from cooking dinner…. usually!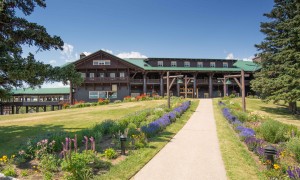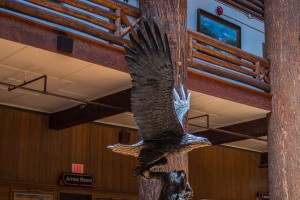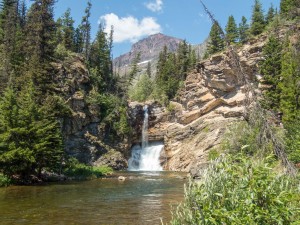 Doug Here: While admiring Running Eagle Falls after our hike there, I met a Stanford classmate at the same observation deck! Small World.
Lesson learned today:  "Do not try to rinse out your black tank with the drainage valve closed and forget that the rinse hose is on". Doug and I were blissfully taking a nap when there was a rap on our coach door…..we had water flowing from our roof.  Oops. Or should I say "Poops"? The roof is clean and all is well. The EPA will be talking to Doug soon… (No pictures of that event provided. Enough said, Bonny dear.)
East Glacier Lodge