June 29, 2015 Monday.  Going to the Sun Road & Logan's Pass
Left early this morning for a drive to Logan's Pass and hike to Hidden Lake.  Logan's Pass is the half way point on the Going to The Sun road as one heads west across the Park.  The hike was only 3 miles but took up a several hours and crosses the Continental Divide.
The trail was part boardwalk, gravel, rocks, and snow, an easy 600 foot incline to a look out that was a breathtaking view of the valley, Hidden Lake, and several peaks.
Our hiking group in Redding  always say that a good hike has at least on of these features……water, wild flowers, or an exceptional view.  This was everything rolled into one.   The melting snow produced the most beautiful streams and waterfalls and the meadows of wild flowers in white, yellow, coral, pink, purple.  The mountain goats were very friendly and comfortably shared the trail with us.  The snowy areas were only about 1/3 of the trail, but posed the greatest difficulty traversing.  Crampons would have been quite useful!  The array of clothing was quite interesting from complete hiking gear complete with back pack and bear spray to shorts and flip flops.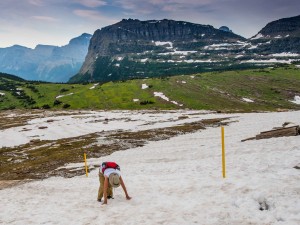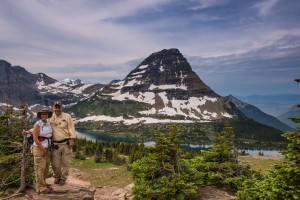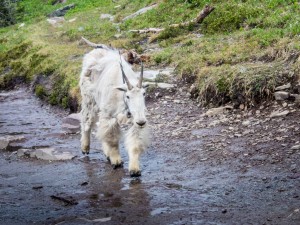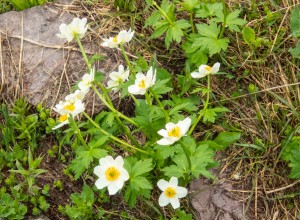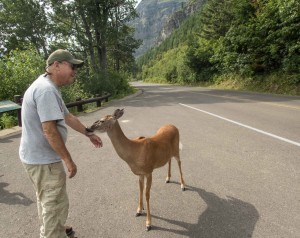 We traversed the rest of the Going to the Sun road to the west side of the Park (40 miles total) and ate  at the McDonald Lake Lodge.  We scoped out a couple more hikes that we will do later in the week.
We have been "newsless" for the last week…..Doug set up our satellite TV and we were heard about the Supreme Court ruling on Obama Care and the recognition of gay marriage.  The (hopefully) unintended consequences of these rulings are going to have profound effects on this country as we know it.