133 miles of Oregon coastline from Astoria to Newport…….I enjoyed the scenery, Doug, however,  was white knuckling it for most of the trip as he maneuvered 62 1/2 feet and  38,000 pounds of vehicle  on the 101 Coast Highway.  He is really quite a good driver.
Oregon is my new favorite state and I think God's favorite color is green.  The lushness of Central Oregon and the coast is unsurpassed.  I know I look forward to returning and enjoying the many bike trails that are everywhere in the state.
We stayed at Pacific Shores RV Resort.  This was the most pricey of our sites at $70 in the off season.  Unlike other parks, each site is individually owned.  There was an indoor pool, spa, and gym ( none of which we used :  (   ) BUT, the view from the front seat of our RV was spectacular with a trail down to a beach that we mostly had to ourselves. For future reference, space 128 is the most beautiful with ocean view, grass, and a forrest to the right.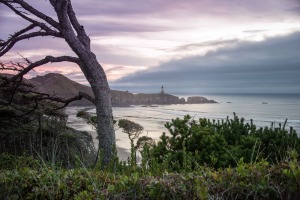 We spent a day at a state park thats main attraction is a beautiful lighthouse………Yaquina State Park.  The sea was very rough that day with anticipated storms.  We were warned to be careful of Sneeker waves which are exactly that.   We never saw one, but our previously mentioned acquaintances, Neil, said he and his wife were drenched by one near the beach.