October 7th marks our 14th anniversary.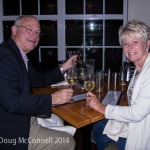 Bonny and I feel very fortunate for our families and many friends both in Southern California, Redding and all across this wonderful country. We also spent time reminiscing about past adventures and travels and planning more of the same to come!
Thank you all for enriching our lives! Really, thank YOU.
We enjoyed a wonderful evening and dinner at the Bridgewater Bistro here in Astoria, Oregon. We had wonderful seafood dinners and attacked a bottle of matured grape juice from Roderer.  The combination and location were just great. We would really recommend this restaurant if you ever get up this far into Oregon. Here is there web site:
Some pictures follow and as usual you can see them enlarged with a simple mouse click!    Anniversary Dinner