We are listening to an audible book called Beneath a Scarlet Sky.  Listening to this crafted story makes the miles fly – we actually look forward to the drive just to listen.  It would be considered a historical novel based on direct interviews with the actual man, Pino Lella. The saga starts in Italy in 1943  as the German Nazis rush to occupy Italy to counter  the Allies invasion.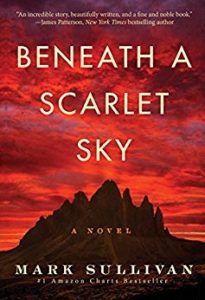 Doug found the Audible Books summary: "Pino Lella wants nothing to do with the war or the Nazis. He's a normal Italian teenager—obsessed with music, food, and girls—but his days of innocence are numbered. When his family home in Milan is destroyed by Allied bombs, Pino joins an underground railroad helping Jews escape over the Alps, and falls for Anna, … " and the saga goes on.
We learned a lot about northern Italy and the challenges the Italians faced in their own divided country. The actual record of the Italian nation protecting and hiding their Jewish families was quite admirable. Its a well crafted story based on the true life adventures of a young man swept up in WW II.